Thanks to Adele, random playback is no longer standard on Spotify.
Concept album "30" has been released
For about three years, Adele worked on the raw files of her fourth studio album "30" and released the finished work on Friday, November 19, 2021. The British artist was in the worldwide top 10 charts on Spotify on the day of the release position seven songs and generate over 42.6 million streams alone.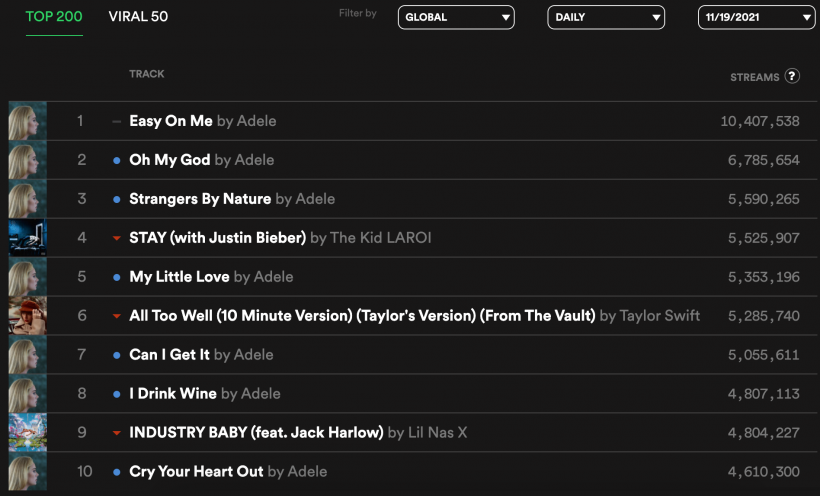 Change on Spotify
Adele herself was pleased with the high streaming numbers and nevertheless addressed a request to the Spotify programmers: She wanted to remove the shuffle function, as the random playback of her tracklist. And there was a reason for that, as the singer explained via Twitter:
"That was the only wish I had in our ever-changing industry! It is not without reason that we prepare our albums with so much care and attention to our tracklist. Our art tells a story, and our stories should be heard as we intended. Thank you Spotify for listening, "Adele wrote.
There is one exception.
From now on, album playback will no longer be the default setting. Instead, the actual artist himself will determine the order in which the songs on the longplayer will be played – after all, the tracklist was put together in meticulous detail. However, the Swedish streaming company did not want to confirm whether the change had been made across the entire platform solely at Adele's request. According to Spotify, subscribers and artists have long wanted this feature so that concept albums that deal with a subject and an idea in interdependent compositions can be played back correctly.
There is one exception, however: If you use the free version and therefore don't pay for Spotify, you will still be presented with the shuffle button and can play the album in question in random mode.